Über Uns
Sustainable and clean: Our Wädenswil-based start-up em kraft rethinks cleaning products. Our new approach is biodegradable an therefore circular, on a probiotic basis. As a pioneer in sustainable cleaning products, em kraft meets the highest demands of gastronomy professionals and in your home.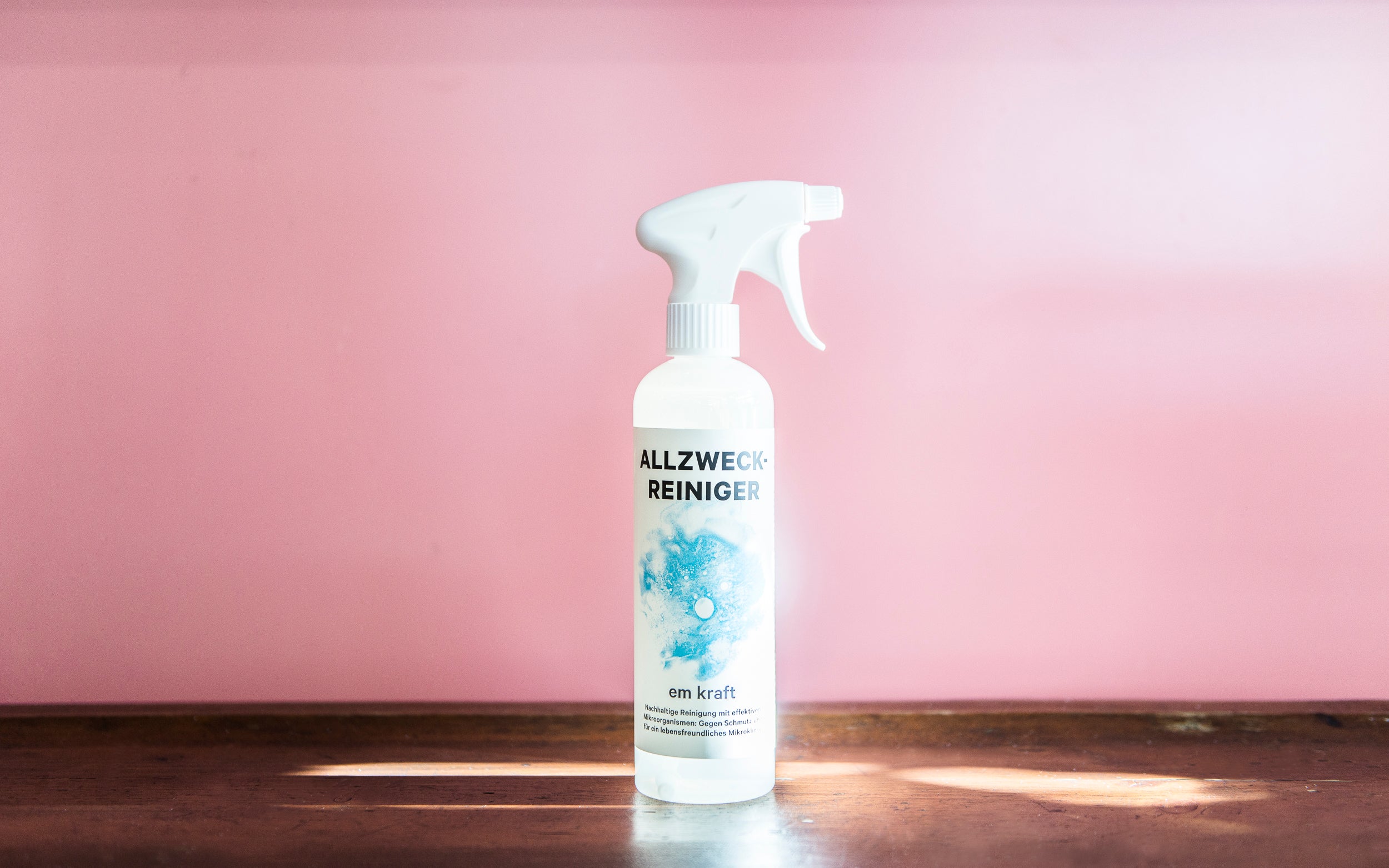 Since 2002, we have been developing sustainable and ecological cleaning products, relying on the power of effective microorganisms. The path to the development of em kraft was paved by a meeting of three people: One of them discovered during a surf trip in Costa Rica that the septic tank behind the house was odourless thanks to a brown broth. One had read the book by the discoverer of EM Teruo Higa. And one of them had been struggling with rot in his catering business under the festival tent.

What was first developed for our own use and later as a cleaning program for professional gastronomy, has become a compact and efficient range of products for gastronomy professionals and your home.

All products are produced and packaged in our manufacturing facilities in Wädenswil in the canton of Zurich, from where they are personally delivered to the post office.
We are em kraft
Joel Weil
Project manager of em kraft since 2013, is the driving force behind the project. Connected to the elements as a snowboarder and surfer, socially engaged as a punk rock drummer, he searches for the perfect balance between his favourite places: the pulsating city and unspoiled nature.
Creative mind, minimalist, economist
Daniel Rohrer
He has been supporting em kraft since 2020. As a snowboarder, backpacker and vanlife enthusiast, he looks for solutions to make the world, which is stressed by globalisation, sustainable. As a studied economist and critical observer of capitalism, he finds ways to think marketing and consumption for an environmentally sustainable future.
Visionary, entrepreneur, nature lover
David Luisi
The film producer and digital marketing specialist is co-founder of em kraft and supports his heart's project as a strategist and motivator. As an uncompromising organic consumer, he wants effective microorganisms in the city and is convinced that they also improve our living conditions in the urban environment.
DJ, foodie, outdoor enthusiast
Tobias Gugg
The project manager made em kraft an insider tip in the adventurous early days. As a DJ and organiser in the Zurich scene, he lives the contrast to the hunter, cook and self-supporter from the Glarnertal. Networked and rich in experience in gastronomy and facility management, he supports the team as an advisor and strategist.